Ruthven Public Library
Welcome to the Ruthven Public Library. The library is your one stop source for all of your informational needs. We have a large selection of books, magazines, newspapers, and electronic resources available to be checked out by our library card holders. Here you will also find electronic resources, news, announcements, and a calendar of upcoming library events!
Stay Tuned for Upcoming Winter Programs!
November 25 & 26 - Library Closed - Happy Thanksgiving!
Join us for "Coffee Corner" - weekly, Wednesday-Friday (9:30am-11:30am)
Head on over to Coffee Corner!
❄️☃️
Coffee Corner is hosted weekly, Wednesday through Friday from 9:30 - 11:30am. It is sponsored by the Friends of the Library. The community and surrounding communities are welcome to come and enjoy a cup of coffee, hot chocolate or tea. Read the paper, work on the provided jig saw puzzle, play cards, page through magazines, check out books, visit with friends, etc... Donations are welcome and all donations go to the Friends of the Library.
Special Guest Speaker - Maureen Horsley ARNP presents on Accident Prevention, 12/1 @ 10am
December 7 - Book Club & Cookie Exchange
Join us for Book Club, where we will be discussing the Christmas book of your choice! Everyone reads their own to share - we are also having a cookie exchange! 9:30am - 10:30am.
Everyone is welcome to attend!
December 1 & 15 - Early Out/After School Program
Head on over after class to participate in our after-school programs, 2:45-3:45pm.
December 14 - Craft with Connee & Margo, 6:30-8pm
Come join the fun and make your very own paintbursh ornaments and bracelet! Call 837-4820 to reserve a spot! ❄️☃️🎄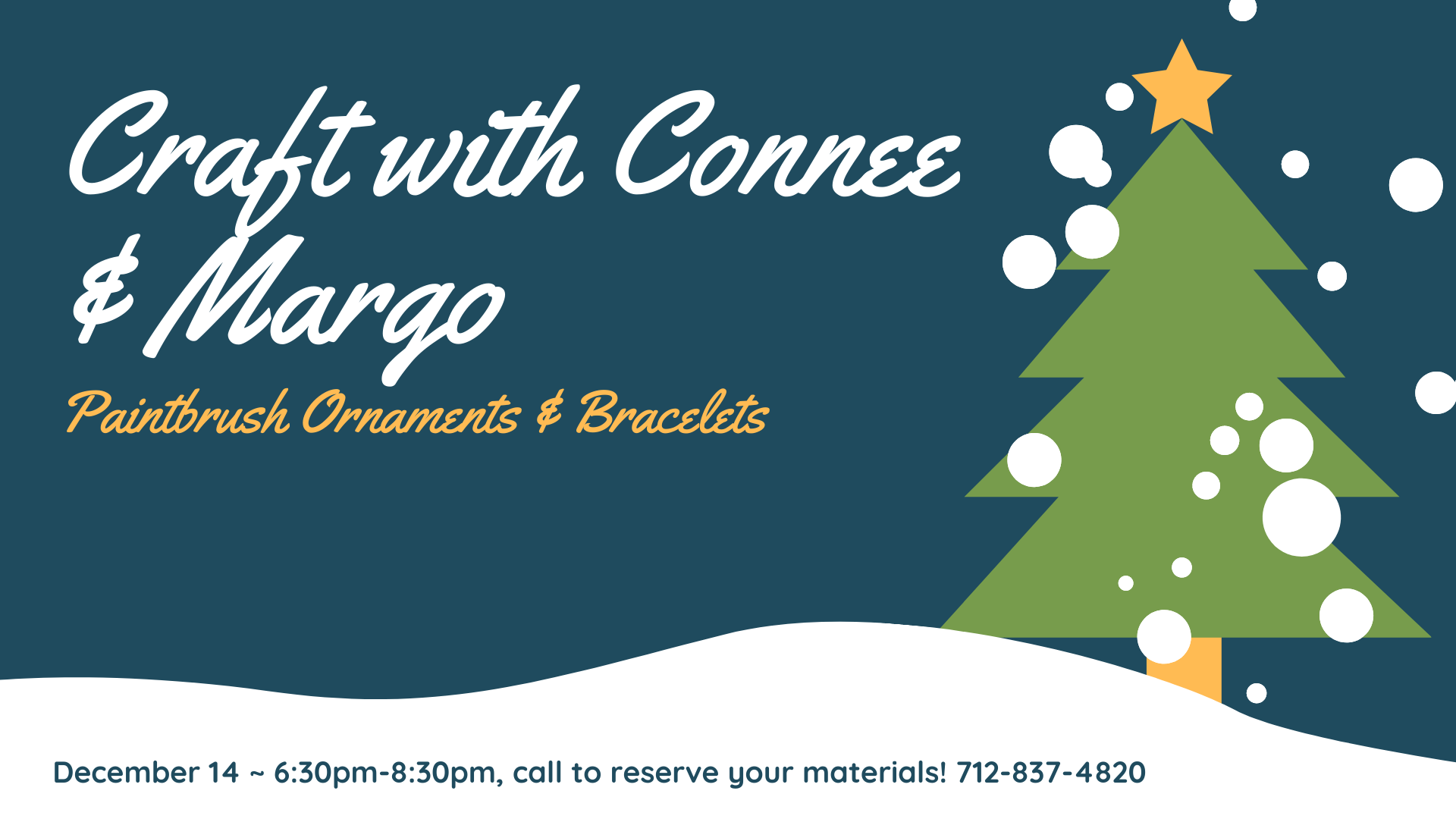 December 28 - NO SCHOOL Program
No school, no problem! Head on over to enjoy some popcorn and a movie! 1:30-3:15pm.
December 24 & 31 - Library Closes at Noon - Happy Holidays!
December 25 - Library CLOSED - Merry Christmas!
We hope to see you soon!
Mon: 3:00 PM - 6:00 PM
Tue: CLOSED
Wed: 9:00 AM - 12:30 PM
1:30 PM - 4:30 PM
Thu: 9:00 AM - 12:30 PM
1:30 PM - 4:30 PM
Fri: 9:00 AM - 12:30 PM
1:30 PM - 4:30 PM
Sat: 9:00 AM - 11:00 AM
Sun: CLOSED